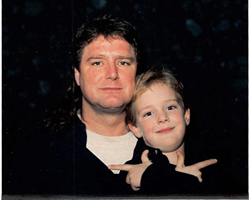 David John Malanaphy with his son, Jonah John Halvorson Malanaphy
First as a regional manager and later as a member of Taralan's board of directors, David was a driving force in the development and growth of Taralan. His vision, values, and enthusiasm infected all who came in contact with him.
"David's proudest accomplishment and happiest role was that of father to Jonah"
His commitment to educate and serve the client went beyond the typical client/vendor relationship. To David the clients, and the Taralan employees, were part of his extended family. He served everyone he came in contact with and touched many lives in the process.
Those of you who knew him will remember his humor, kindness, and commitment to family and friends. To us he was a son, brother, friend, and mentor.
We at Taralan will miss David immensely.