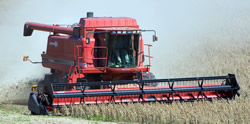 "Using the Taralan Multi-Factor System™ recommendations and crop monitoring, Taralan informs me of what is happening with my crops in a way I never knew before. This enables me to make beneficial changes based on facts."
Timely, accurate, relevant information is critical to better decision making. Taralan offers a full array of services to ensure better decisions and outcomes at every point of the production cycle.
No two fields, seasons or farmers are alike. Taralan professionals work closely with you to understand your goals, resources and operation, and tailor services to ensure cost effectiveness and grower satisfaction.
Taralan Consultants are CCA certified, and are qualified NRCS Technical Service Providers.
Services include but are not limited to:
Field mapping; traditional, grid, or management zone
Soil sampling, analysis and interpretation: traditional, grid, or management zone
Fertility Recommendations
Manure analysis and Management plans
Pest scouting and recommendations: weeds, insects, diseases.
Tillage evaluation and recommendations
Yield and yield loss estimation
Hybrid, population, spacing, and depth recommendations
Complete crop system analysis
Are your crop production practices moving your yields and profits forward?
"Isolation is the worst possible counselor"