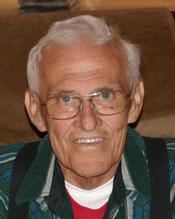 Oliver E. Friedlein 1938-2012
Mr. Friedlein was a Railsplitter and a talented woodworker. He also loved to draw and work puzzles. Above all he was a family man and deeply loved his children and grandchildren.
Oliver joined Taralan as Vice President, Sales and Marketing and a member of the Board of Directors in the mid 70's and was a driving force behind the expansion and ongoing development of Taralan's agronomy support programs, which spanned 38 U.S. states and 4 provinces of Canada during his tenure.
No stranger to promoting leading edge concepts and methodical, persistent effort, Oliver successfully applied his abundant enthusiasm, creativity and leadership abilities to inspire thousands of farmers, hundreds of fertilizer dealers and a network of over 60 Taralan Field Agronomists to reach higher levels of performance by applying advanced agronomic and business management concepts.
Clients and coworkers quickly came to appreciate Oliver's genuine respect for and interest in them and their success, as well as his positive attitude, integrity, and seemingly inexhaustible energy. His no-nonsense approach to work was enhanced by a deep love of people and appreciation for their unique perspectives and gifts.

Those of us who were touched by Oliver are deeply grateful for his warmth, tireless support and many significant contributions.